Original Grill Daddy Replacement Brushes with 'Bristle-Lock' Technology- Brush Dimension: 2.75"W X 2.25"L
Regular price
$15.99 USD
Sale price
$10.99 USD
Unit price
per
Add to cart
Sold out
BRUSH DIMENSION: 2.75"w x 2.25"L
Only Fits ORIGINAL Grill Daddy - DOES NOT fit PRO or GRAND. Steam Cleaner brush
This product fits Original Grill Daddy.  The Grill Daddy is made to last, and you can simply replace the brush with one of our Original Grill Daddy replacement brushes. Now with 'Bristle-Lock' Technology which locks individual bristles in place for added safety.  Grill Daddy cleans your grill quickly and easily with the power of steam. Keep your brushes fresh to get the full power of the Grill Daddy and to help it last as long as your grill, if not longer. Only buy The Original Grill Daddy and Grill Daddy replacement brushes. Don't be fooled by cheap imitations made in China!
Made in the USA.
New and improved!
It comes complete with screws, wing nut, washer, and scraper brush.
Part Number: GB05522S
Share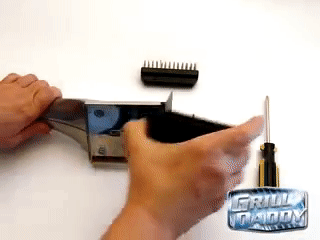 Replacement Brush
First use with the new design which allows more water flow. This provides a greater amount of steam than previous design. Big improvement!
Original Grill Daddy Replacement Brushes with 'Bristle-Lock' Technology- Brush Dimension: 2.75"W X 2.25"L
Is the customer always right ??????
Is the customer always right ??????
Better than original.
I have an older Grill Daddy, still works well. At first when I received the replacement brushes, I thought they were the wrong size. They are longer but fit perfectly. It just adds more cleaning surface. Very happy with my purchase.
Love Grill Daddy and the replacements work great